With Spring just around the corner we decided it was time to venture out and start exploring Europe with the newest member of our family, baby Orion! My cousin Audrey and her partner Brandon are planning to move from Brussels to Vancouver later this year so we met up with them for a weekend in Metz, France in early March.
Metz, France 🇫🇷
The charming, French city of Metz is located about ninety minutes from our house in Germany on the banks of the Moselle and Seille rivers and close to where the borders of France, Germany, and Luxembourg meet at the Schengen tripoint. In addition to being a convenient meeting point between Brussels and Kaiserslautern, Metz also has a large pedestrian zone (great for touring with a stroller!) and several baby-friendly attractions: Saint Stephen's Cathedral, La Marche Couvert, and the Porte des Allemands. Metz is also one of the greenest cities in France, with over 580 acres of gardens and parkland to explore.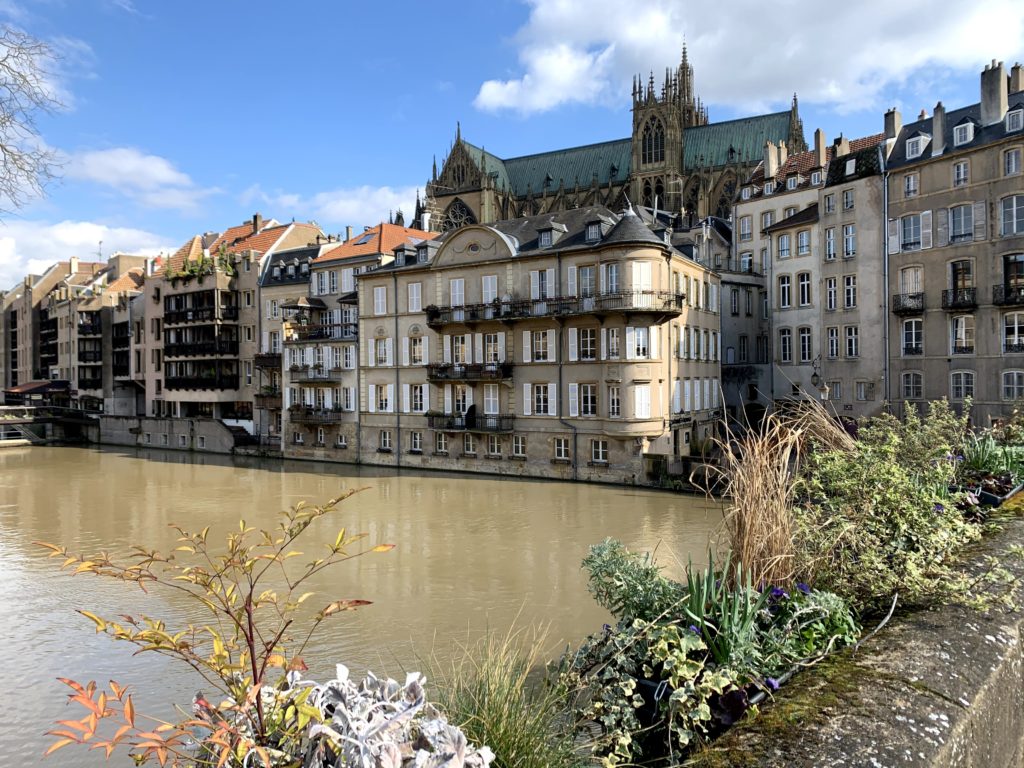 Where to Stay with a Baby?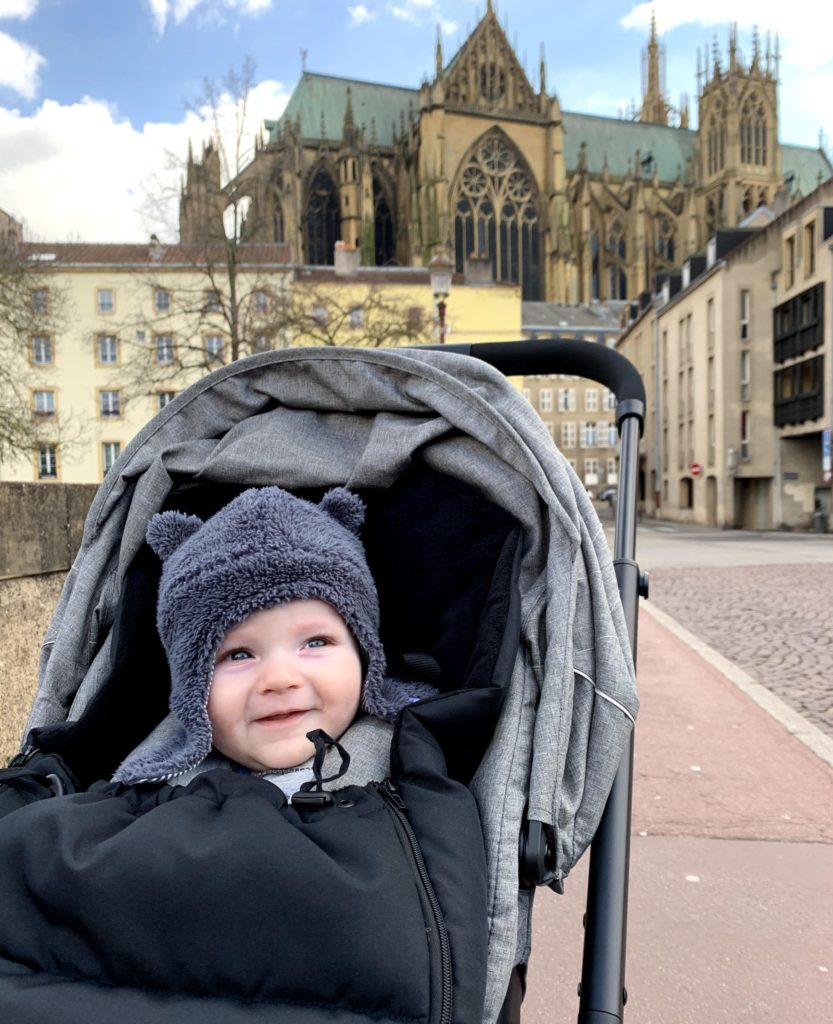 When I was pregnant and planning to move to Germany with the hopes of traveling around Europe with a young baby, one of my friends and coworkers gave me a great piece of advice: always stay at an Airbnb that has a washer and dryer. Luckily we didn't end up having any laundry emergencies on this trip but it was a great piece of advice because it prompted us to look for a place that was better suited to the needs of our expanded family.
We selected a 2-bedroom Airbnb so Orion could have his own bedroom, which allowed Alex and I to get some sleep and feel more rested while exploring the city. We also chose an apartment with on-site parking, which made it easy to unload the car quickly and get Orion settled in his travel crib without much disruption when we arrived around 9:30pm Friday night. The Airbnb's kitchen was the perfect place to have breakfast (pancakes and Mirabelle plum mimosas!) each morning and our hosts also offered to let us use a high-chair as part of the rental.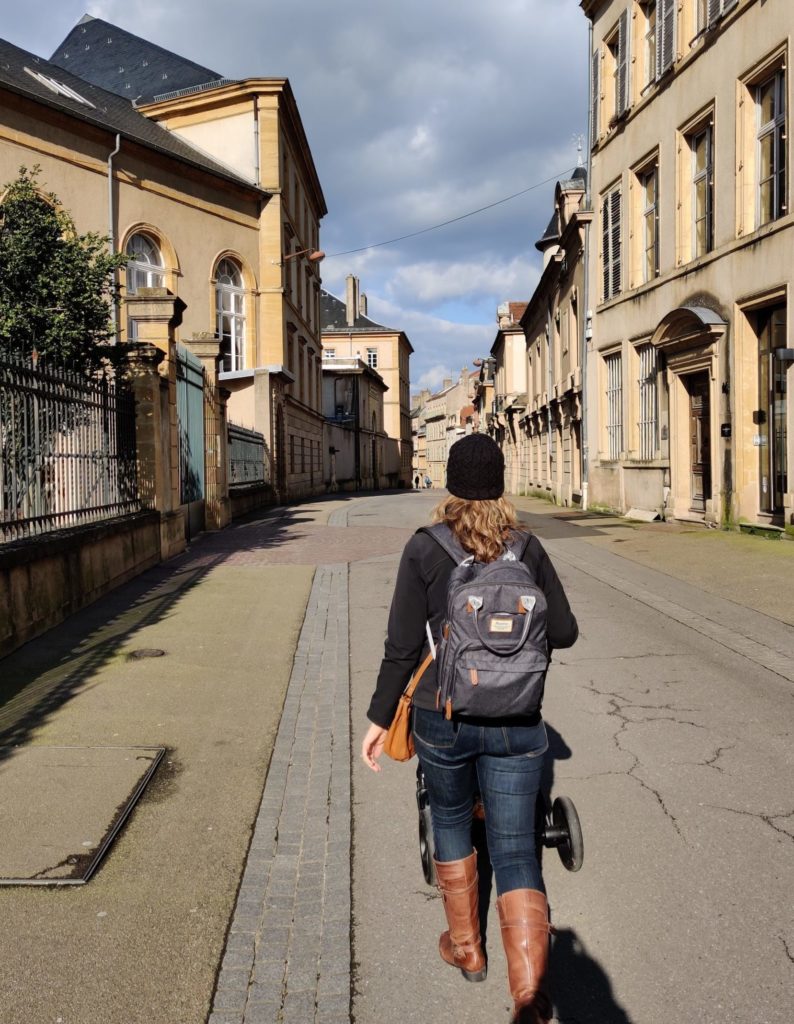 Our trip also solidified the importance of finding accommodations in a convenient location when traveling with a baby. At the time, Orion was still on a three-nap schedule and struggling to stay awake for more than 2-3 hours at a time during the day. Choosing an Airbnb located inside of the Metz pedestrian zone made it more complicated to get to the property (entry involves motorized barriers controlled by French-speakers), but easy to head back to the apartment for nap time without causing too much disruption to our sight-seeing plans. We also selected a ground-floor rental with enough space in the living room to park Orion's stroller so it didn't take us long to get him loaded into it and ready to explore the city.
What to do with a Baby?
Metz has some stunning sights and many of them are also baby-friendly. Orion loved our stroll through one of the tallest Gothic buildings in Europe, Saint Stephen's cathedral. He was amazed by the beautiful stained glass windows, which earned Saint Stephen's its nickname "God's lantern," and it was easy for us to navigate our way through the cathedral even with a stroller. Alex and I have also enjoyed touring various cathedrals throughout Europe, noting that each one is a different color depending on the type of local stone used to build it.
Our favorite attraction was the La Marche Couvert, or "Covered Market," which is located in Metz's historical center adjacent to Saint Stephen's cathedral. The building was originally built as a palace for the Bishop of Metz, but the French Revolution broke out before the bishop moved in so the residents turned it into a covered food market instead. La Marche Couvert is now home to over forty vendors, including greengrocers, cheese-mongers, bakers, and butchers, who sell everything from delicate French pastries to giant wheels of cheese. After perusing the shops with Orion in tow, I took him back to our Airbnb to get him settled for his nap while Alex, Audrey, and Brandon purchased two flavors of homemade ravioli (squid-ink and eggplant) to bring back to the apartment for lunch. Audrey also bought some Mirabelle plum jam, which was excellent spread on a fresh French baguette over a layer of creamy Camembert cheese.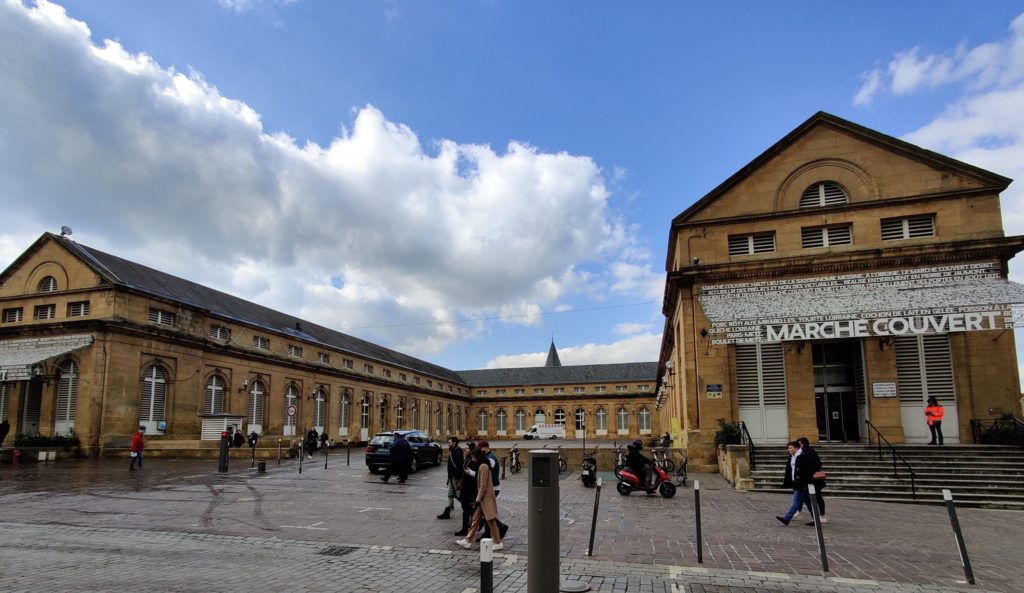 Saturday afternoon we set out to find the Porte des Allemands, or "German's gate," and arrived just as the sun was starting to set over the city. The small, fortified castle is named after the Teutonic Knights and served as both a bridge over the river Seille and a city gate in medieval Metz. The castle is well-lit and actually quite beautiful at dusk and also easily accessible even with a stroller.
What About Next Time?
We had a great time meeting Audrey and Brandon in Metz, especially considering that it was a last-minute trip (we planned it the week beforehand) with an almost 6-month-old baby. While it was convenient to take Orion back to our AirBnB for his naps, they still ate into our time for sightseeing, especially with the relatively early sunsets before Daylight Savings Time later in March. We passed the Temple Neuf while exploring the outskirts of the pedestrian zone but never went inside and prioritized Saint Stephen's Cathedral over La Cour d'Or Museum and the Centre Pompidou-Metz on Saturday afternoon. While the weather was decent for exploring the city, especially with the foot-muff attached to Orion's stroller, it certainly wasn't nice enough for us to have a picnic in Seille Park or stroll along the banks of Esplanade Lake. With the current travel restrictions throughout Europe I'm not sure when we'll get back to Metz but it was a wonderful weekend destination and the perfect location for Orion's first international adventure.